Restaurants in Calpe, Spain. Out to eat with friends and family in Calpe, and need tips for good restaurants that are guaranteed to pique your taste buds? Everything you need to know about the best restaurants in Calpe, from small tapas bars to more famous upscale restaurants in beautiful surroundings.
Calpe is a coastal town located in Marina Alta, in the province of Alicante, in the Valencia region of the Mediterranean Sea in Spain. As with the rest of the towns along the Costa Blanca coast, the climate in Calpe is excellent, attracting tourists from all over Europe. There is also a rich selection of sights and good restaurants from most continents, and if you want to avoid the traditional tourist food, this guide to restaurants in Calpe will help you find the really good restaurants.
Join the Facebook Group: We Love Costa Blanca
Best Calpe Restaurants
The restaurants in Calpe are well spread throughout the city, but several restaurants are concentrated at the intersection of "Calle Pintor Sorolla" and "Calle Blasco Ibanez" in the center. At the harbor just east of the Calpe cliff as well as at the beach promenade on the north side of the cliff, more specifically at the beach "Playa la Fossa" you will find and a good selection of restaurants.
#1 Restaurant Puerto Blanco
This is probably one of the best restaurants in Calpe, and is located next to the small port of La Canuta. Follow the signs for Mar y villa (Mary), turn right at the small roundabout on the opposite side of the Guardia and follow the road down the hill around 1km. Restaurant is located in sharp right turn with the harbor just in front. Puerto Blanco Harbor.
Contact information Puerto Blanco
Address: Urb. La Canuta Baja, 35b, 03710 Calp, Alacant, Spain
Phone: +34 965 83 09 77
Website: www.puertoblanco.eu
#2 Restaurant La Viña de Calpe
This is a lovely restaurant that serves good Spanish and European food. The service is very good and the staff make you feel welcome from the first moment. The restaurant is on the right side of Merced Road with Hotel Esmeralda in the back. Menu also in Russian and very popular with Russian residents in Calpe.
Contact information La Viña de Calpe
Address: Avinguda Jaume I el Conqueridor, 1-H, 03710 Calp, Alacant, Spain
Phone: +34 636 11 84 78
Website: www.lavinadecalpe.com
#3 Restaurant Casita Suiza
Restaurant Casita Suiza is located in Calle Jardin in Apolo III, where you can not miss this Swiss-style restaurant. It's just like being in a Swiss alpine village. The food and service are excellent. A nice all-round restaurant with a Bratwurst and Roestli that our Swiss friends can not do without. Re-booking is important if you like a fondue.
Contact information Casita Suiza
Address: Calle Jardín, 9, 03710 Calpe, Alicante, Spain
Phone: +34 965 83 06 06
Facebook: www.facebook.com/Restaurante-Casita-Suiza-Calpe
#4 Restaurant Chino Imperial
This is Calpe's most popular Chinese restaurant for locals, residents and visitors, offering a nice fresh selection of Chinese dishes with fast service at incredible prices. Example: a large dish of shrimp Chow Mein with white rice, shrimp biscuits and a bottle of mineral water for € 6.50. They are also friendly and remember their customers so no wonder it is almost always crowded here.
Contact information Chino Imperial
Address: Av. Masnou, 9, 03710 Calp, Alacant, Spain
Phone: +34 965 83 87 43
Facebook: www.facebook.com/pages/Chino-Imperial
#5 Restaurant La Llar de Barbara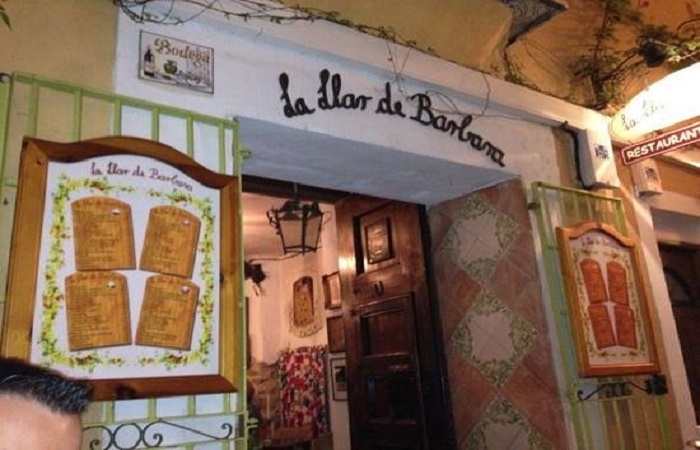 Restaurant La Llar de Barbara is an intimate and cozy tapas restaurant, located in a quiet street in the central part of the old town. La Llar de Barbara serves typical Spanish tapas, and the small dishes on the menu include curry soup, sausage, chicken with tomato and garlic, grilled meat, ham and lasagne. The restaurant has a pleasant atmosphere with rustic interiors as well as antique musical instruments as wall decoration.
Contact information La Llar de Barbara
Opening hours: Tuesday – Sunday at 18.00 – 24.00.
Address: Calle Mayor 10, 03710 Calpe
Facebook: www.facebook.com/lallarbarbara
#6 Restaurant Boomerang Steakhouse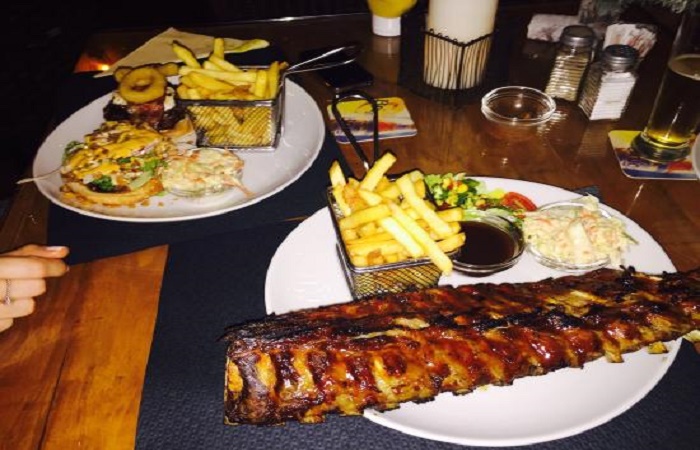 This restaurant is fully booked every night so you need to make a reservation as with most of our recommended restaurants. The specialty of the house here is fried goose. Go here just for the goose you will not be disappointed. As a self-respecting steakhouse restaurant, the meat is very good.
Contact Information Boomerang Steakhouse
Address: Pinta, 3 Edificio Athena Esquina Calle La, Carrer de la Pau, 03710 Calp, Alicante, Spain
Phone: +34 965 83 60 34
Address: www.facebook.com/boomerangsteakhouse
#7 Restaurant Siete Lunas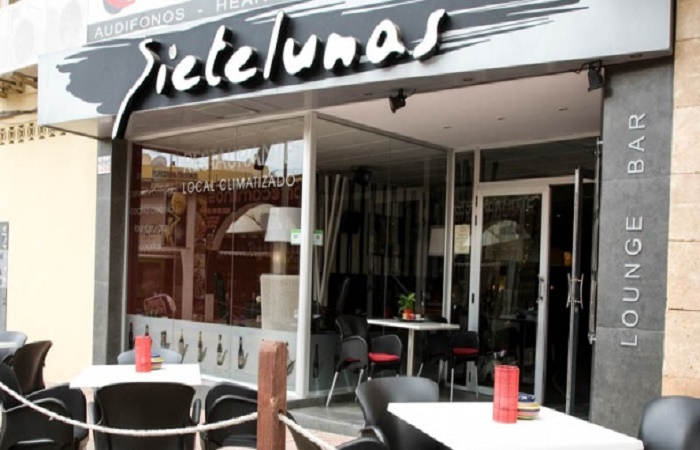 Centrally located in Calpe, Siete Lunas is a trendy restaurant serving international cuisine. The place has modern décor, and here you can be served tasty meat and fish dishes. In addition, Siete Lunas has a good selection of small dishes – including soups, salads, burgers, sandwiches and spaghetti. The restaurant also has an outdoor terrace as well as a good selection of beers and cocktails.
Contact information Siete Lunas
Opening hours: Monday at 12.30 – 15.30 and at 18.00 – 01.00. Tuesday at 18.00 – 01.00. Wednesday closed. Thursday – Sunday at 18.00 – 01.00.
Address: Calle Dr. Fleming 11, 03710 Calpe
Website: www.siete-lunas.es
#8 Restaurant Por Que No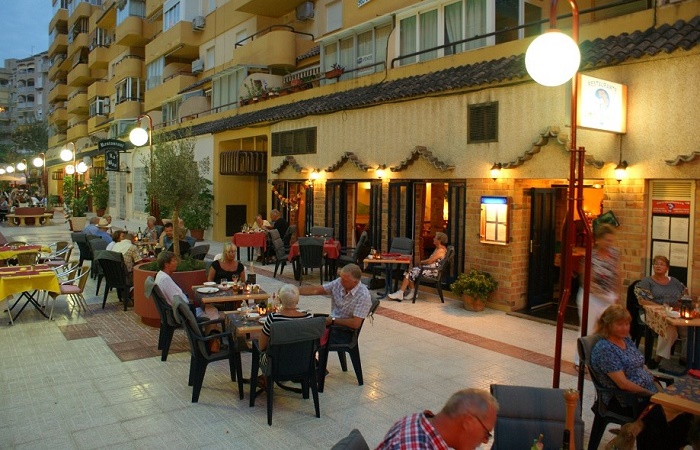 Restaurant Por Que No is a Dutch owned and restaurant in a beautiful setting and the food has a high standard. In winter it is a warm and bright restaurant, and in summer the restaurant shares the terrace outside with another restaurant, providing a very good quality and service.
Contact information Por Que No
Address: Calle Jardín, 03710 Calpe, Alicante, Spain
Phone: +34 965 83 87 37
Website: porquenocalpe.com
#9 Restaurant Borgo Antico
Restaurante Borgo Antico is a cozy family-run Italian restaurant centrally located in the old town. The place opened in February 2013 and has already been recognized as a first class restaurant. Here you can order delicious meat, fish and shellfish dishes, pasta and pizza. The place also has a good selection of Italian desserts. Organic vegetables and Italian products are used in cooking. Restaurante Borgo Antico has a great atmosphere with rustic interiors and offers good service. Price range: Medium.
Contact information Borgo Antico
Opening hours: Monday – Saturday at 19.00 – 23.00.
Address: Calle del Mar 20, 03710 Calpe
#10 Restaurant Pizzeria Mama Leone
Pizzeria Mama Leone is a typical pizzeria with bakery service, breakfast, pizza, pasta dishes including take away, an outside summer terrace and large dining room. Restaurant Pizzeria Mama Leone has been in Calpe for over 20 years and is recommended if you are craving a really good pizza.
Contact information Pizzeria Mama Leone
Address: Carrer Blasco Ibáñez, Local 11, 03710 Calp, Alacant, Spain
Phone: +34 965 83 31 61
Website: www.facebook.com/pizzeriamammaleonecarlos/
#11 Restaurant Antic Roma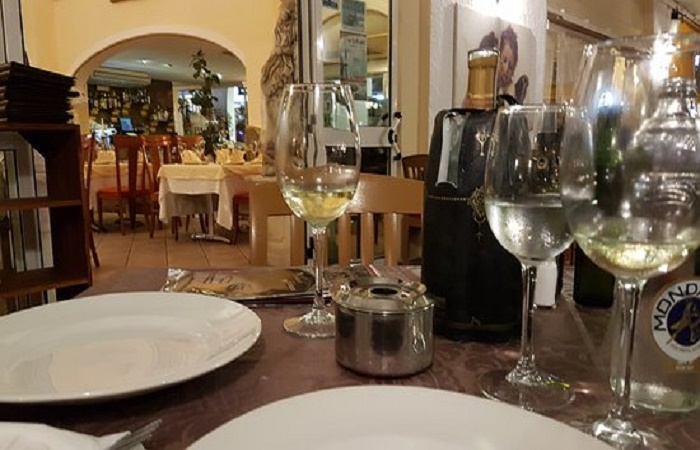 On the corner of Pintor Sorolla and Blasco Ibañez is a large and spacious Italian restaurant with good food all year round. The prices here are remarkably low for the quality served, ask for the house wine and they will usually give you a really good Italian if you ask. Great food and prices.
Contact information Antic Roma
Address: Carrer Pintor Sorolla, 4, 03710 Calp, Alacant, Spain
Phone: +34 662 38 00 49
Website: www.facebook.com/pages/Antica-Roma-Da-Luciano/
#12 Restaurant Rincón de Calpe
Rincón de Calpe is a bit secluded up a street. Turn left into C / Oscar Espla and you will see the restaurant on the right. A truly timeless Spanish restaurant with traditional Spanish dishes. Real Spanish decor with bottles of wine on the ceiling. We ordered two Paellas here and they were both the best we had ever tasted. A popular place at lunchtime for local business people. Order Paella in advance and tell them what kind you want, eg Valenciana, Mixta or Marinera.
Contact information Rincón de Calpe
Address: Carrer Oscar Espla, 4, 03710 Calp, Alacant, Spain
Phone: +34 965 83 24 60
Website: www.facebook.com/Rinc%C3%B3n-De-Calpe
Map of Calpe restaurants


Calpe info and resources